Part 1 Ride these Loops in order: WR 2021 Loop 1, 2, 3 (Loop 1)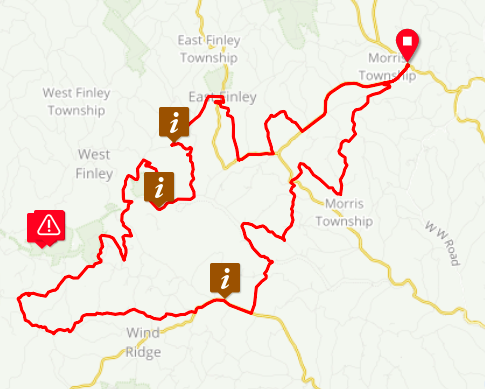 Part 2: WR 2021 Loop 2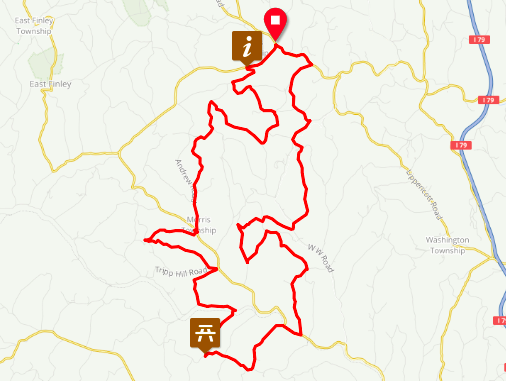 Part 3: WR 2021 Loop 3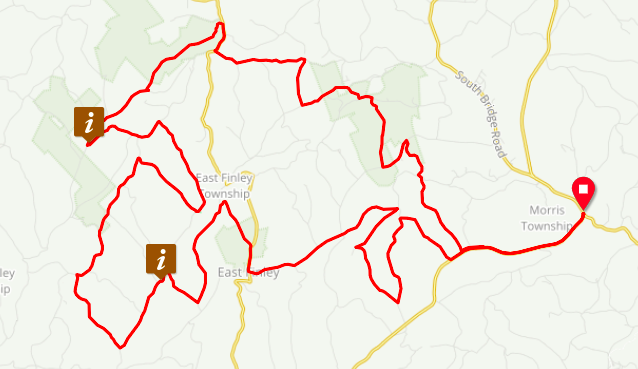 The updated CASK 200K (actual distance 129.5 mi/208.4K) is one of the most extreme and challenging gravel rides you are likely to ride and is for very experienced gravel and endurance riders only! A total of three loops make up this route for a gut busting 12,152 ft. of climbing. You'll experience everything that Washington County gravel roads have to offer with rough, muddy roads, steep climbs and descents and you'll cross over five of the region's historic covered bridges. For the 200K, there will be FOUR aid stations including the start/finish station.  This route is for the toughest of riders.
The overall course is comprised of 4 loops that all connect at the start and finish in Morris Township Community Park in Prosperity, PA.  All routes are completed by riding one, two or three of the loops to comprise the total route distance.  You'll be within 20 mile circle (as the crow flies) of the start & finish at all points on the course, and the loops have very little overlap so you will be experiencing new terrain no matter the distance you choice; you will not ride the same loop twice to just to make up the distance!
No matter what length you ride, you'll cross a finish line where we'll welcome you back in friendly, mid-western style.  After you put your bike away, come celebrate your ride or race at the best post-ride/race party at the Park Pavilion!  Relax with friends, listen to local music and trade stories.  Enjoy locally sourced farm fresh food from our partner, Springhouse Market and taste the best local whiskey from award-winning local distilleries.  We'll also raffle off some great prizes from our generous sponsors and celebrate our winners and finishers.  All finishers will receive a Whiskey Rebellion Gravel shot glass.  
To adequately conquer this ride, you'll need a gravel bike, cyclocross, touring or mountain bike with at least 32 mm tires.  We recommend 35 mm or wider.  All routes will be marked, however we require GPS enabled devices.  There is little to no cell phone coverage on the routes.  GPS routes will be provided one week before event for download to all registered riders.  Ride is limited to 300 riders.  We reserve the right to make changes to the event and course for the safety of riders and for changes in roads on the course.  An updated Riders Guide will be available shortly and will include more route detail and safety information.