ALL NEW VENUE FOR 2022
EAST FINLEY COMMUNITY PARK
We've moved the Whiskey Rebellion Gravel (WRG) for 2022!  More gravel; less cars.  We'll be based at East Finley Community Park which was a Aid Station stop on the 2021 WRG.  The park is situated in the valley along Templeton Fork which runs into Rocky Run Creek.  The address is 700 Templeton Run Road Claysville, PA 15323.  In the park, there's a Covered Bridge, a one-room Schoolhouse, plenty of pavilions and playground fun.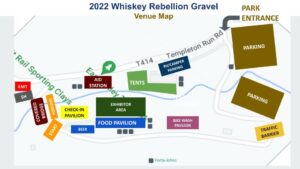 PARKING
Parking will be available at the eastern side of the park.  Please follow the directions of the WRG Staff and do not park or stop in the road to drop off bikes! 
CAMPING
Our friend and head of the park Frank has graciously allowed us to camp overnight Friday night before the ride and Saturday after the ride at the park. There is a small fee for camping and this fee will be 100% donated to the park.  There is plenty of space for campsites along the creek.  We will also have access to the one room Schoolhouse at the park which does have electricity. 
No fires area are allowed except in designated areas and grills. 
Unfortunately, there is NO available potable water.  Please bring any water you will need.  We will only provide water for the Race. 
Restroom, trash cans and Porta-Johns are available near or in Pavilions.  
Electricity is available at both Pavilions. If you would like more amenities, please see the following list of nearby campgrounds:  
KIDS ACTIVITIES 
There is plenty of space to run around at the park, play catch or just about any lawn game.  Anyone up for a round of badminton?  Bring your badminton rackets and shuttlecock to play on the badminton court.  Volleyball net and ball also available for a round or two.  Or the kids can enjoy the various playground equipment. 
DOG FRIENDLY
Yes, you can bring your dog!  Please have your dog on a leash for everyone's safety including the dogs!  And pick up the poop.  Thank you!